1. Nie trzeba nigdzie wychodzić – Mam kolegę, który najbardziej lubi siedzieć w domu i oglądać telewizję lub DVD. Nie bezmyślnie, ogląda interesujące go programy publicystyczne, nagrywa na wideo różnego rodzaju debaty polityczne i wybory i tak dalej. Nie znosi, kiedy ktoś mówi mu 'nie bądź no lifem, wyjdź na dwór, bo ładna pogoda', ponieważ wszystko to co go interesuje najczęściej nie dzieje się na dworze. Jeśli jesteście jak mój kolega, jesień to porwa dla Was. Prawdopodobieństwo, że ktoś poleci wyjście na dwór spada proporcjonalnie do długości dnia.
2. Herbata nigdy nie smakuje tak dobrze – Siedzicie sobie w ciepłym pokoiku otuleni ciepłym kocykiem i z ciepłym kubeczkiem w dłoni. Na zewnątrz pada, wieje, jest ciemno i zimno. I czujecie, że nie m miejsca, w którym wolelibyście teraz być. Poza tym jeśli tak jak ja dostajecie szału na widok półki z herbatami w sklepie i musicie mieć je wszystkie niczym Pokemony, jesień jest najlepszą wymówką.
3. Na londyńskich marketach pojawia się grzane wino – Gdzieniegdzie dostępne jest i latem, ale kto by tam chciał je wtedy pić. Jedno z moich najmilszych londyńskich wspomnień to chodzenie z grzanym winem wśród kramów z antyki razem z moją szkocką koleżanką. Byłyśmy strasznie zziębnięte, więc i grzańca opiłyśmy się niemało, a potem dziarsko szłyśmy wzdłuż Tamizy wieczorową porą. Lato jest fajne, ale nie tak fajne.
4. Nie narzekamy na brak seriali – Owszem, na Grę o Tron przyjdzie sporo poczekać. Ale wróciło Downton Abbey, wrócił Homeland, wróciły nawet niemądre komedie, które oglądam najczęściej do obiadu albo przed snem. I jak powiem, że skończyło mi się Orange is the New Black i szukam czegoś ciekawego na te dni, kiedy czekam na kolejny odcinek wymienionych wcześniej produkcji, to na pewno sypniecie mi z rękawa dziesiątkami tytułów…No nie? Wiem, że sypniecie 😉
5. Swetry i płaszcze wychodzą z szafy – Jesienią łatwiej się ciekawie ubrać ze względu na możliwość zakładania na siebie wielu warstw i mnóstwa dodatków. Jeszcze łatwiej ukryć fakt, że nam się nie chce lub wstaliśmy za późno i nie było czasu na stylówę. Pod odpowiednim płaszczem czy wielkim swetrzyskiem ten fakt zostanie całkowicie niezauważalnym.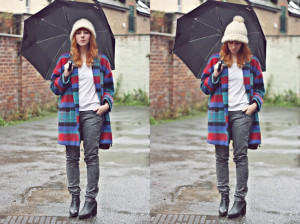 6. Można mieć posępną minę na co dzień – Często kiedy przemierzam ulicę mam minę na Lucjusza Malfoya. Nie jest to specjalna stylówa, taką mam i już. Latem co i rusz jakiś dziarski obcy pan każe mi się uśmiechnąć, a ja zastanawiam się czy naprawdę chodzi mu o uśmiech, czy raczej o mój telefon czy inne dobra. A potem wychodzi, że jestem mruk i nie ufam ludziom, bo przecież obcy mogą być tak po prostu przyjaźni. Jesienią wszyscy wyglądamy jak Malfoye i nikt mnie już nie zaczepia. Wszelkie wyrzuty sumienia znikają.
7. Sceneria robi się dramatyczna – Jeśli jesteś blogerką z dramatyczną twarzą, jesień zapoda Ci najlepsze tła do zdjęć. Bo przecież nie wypada przeżywać tragedii na piaszczystej plaży lub kwiecistej łące. Jeśli zaś na zdjęciach zawsze promiennie się uśmiechasz, Twój uśmiech będzie jeszcze piękniejszy przez kontrast z otoczeniem. Wszyscy wygrywają.
8. Rude włosy są najmodniejsze. I już. Rudzielce spoglądają na nas z okładek magazynów, z bilboardów, z edytoriali. Czuję się jak członkini wyjątkowego (farbowanego) klubu.
9. Osy sczezły – To lato wyjątkowo obrodziło mi w osią miłość. Owady te zafascynowane mym urokiem wplątywały mi się we włosy, próbowały wlecieć do ust i zawsze były blisko mnie. Sytuacja, w której musiałam pytać obcych ludzi na ulicy, czy na głowie nie siedzi mi przypadkiem mały fruwak nie należała do najbardziej komfortowych. Tym bardziej, że osa za każdym jednym razem rzeczywiście tam siedziała. Nie żebym była niewdzięczna za okazane mi uczucie, ale kiedy te małe skurczybyki odchodzą w niepamięć czuję się od razu bezpieczniej.
10. W moim lokalnym supermarkecie ruszyła wyprzedaż lodów Ben&Jerry. Są za połowę ceny. Potrzeba Was jeszcze przekonywać, dlaczego jesień rządzi?
// spodnie Primark, buty Topshop, płaszcz River Island, czapka autorstwa Mamy //
Photos by Ell and me